Home of The Transferware Recorder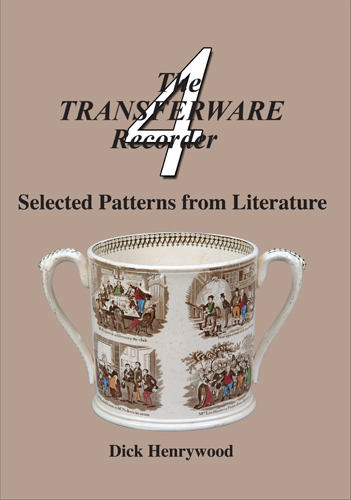 Volume Four – Selected Patterns from Literature
Published March 2018
Volume Four of The Transferware Recorder covers the following series related to literature:
| | |
| --- | --- |
| Aesop's Fables series (Minton) | "The Ages of Man" series (Dillwyn) |
| "Byron Gallery" (two different series) | Cowper series (John Meir) |
| "Classical Antiquities" series (Clementson) | Don Quixote series (Maker Unknown) |
| "The Drama" series (Rogers / Pountney) | "Humphrey's Clock" series (William Ridgway) |
| "Paul and Virginia" series (William Smith & Co.) | "Pickwick" series (John & Robert Godwin) |
| "Robin Hood" series (Bailey & Ball etc.) | "Robinson Crusoe" series (Brownhills Pottery) |
| Scenes from Dickens series (T. & R. Boote) | "Scott's Illustrations" series (Davenport) |
| Scott's Novels series (John & Robert Godwin) | Tegg's Shakespeare series (Maker unknown) |
There are also separate chapters dedicated to William Cowper and William Shakespeare, and a final chapter covering a range of individual patterns. Some of the series are well known but several are virtually unrecorded; some made for domestic consumption, others for the American market. Every known scene is listed, some titled, many identified, nearly all illustrated in colour. In many cases a source print from which the scene was copied is also recorded and illustrated. A comprehensive list of items is provided, along with references to illustrations elsewhere.
For current information about availability, prices and ordering please contact us.
Reynardine Publishing. ISBN 978-0-9926581-3-7. Published March 2018. Sewn paperback 240 x 170mm. 208 pages, 710 illustrations. Full colour.