Home of The Transferware Recorder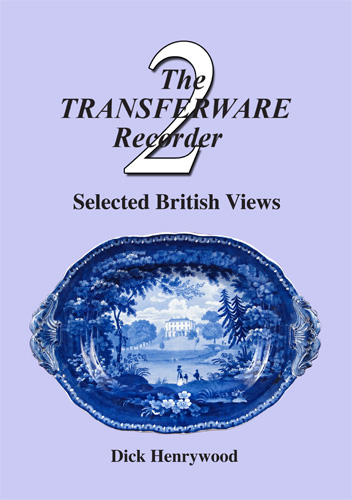 Volume Two – Selected British Views
Published June 2015
Volume Two of The Transferware Recorder covers the following series of British views:
"Anglais" series (Adderley)
Angus Seats series (Ridgway)
Beaded Frame Mark series (Mason)
"

Clyde Scenery" series (Jackson)

Crown Acorn and Oak Leaf Border series (Meir)
Foliage Border series
"London Views" series (Wood)
"Old England" series
"Panoramic Scenery" series (Stevenson)
Passionflower Border series
Rock Cartouche series (Elkin)
Rose Border series (Stevenson)
"Select Scenery" series (Clews)
Most of these are well known but some are virtually unrecorded; some made for domestic consumption, others for the American market. Every known view is listed, some titled, many identified, nearly all illustrated in colour. In many cases a source print from which the view was copied is also recorded and illustrated. A comprehensive list of items is provided, along with references to illustrations elsewhere.
For current information about availability, prices and ordering please contact us.
Reynardine Publishing. ISBN 978-0-9926581-1-3. Published June 2015. Sewn paperback 240 x 170mm. 176 pages. 594 illustrations. Full colour.