Home of The Transferware Recorder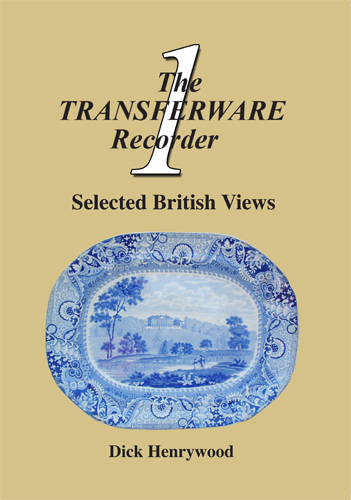 Volume One – Selected British Views
Published October 2013
Volume One of The Transferware Recorder covers the following series of British views:
| | |
| --- | --- |
| Acorn and Oak Leaf Border series (Stevenson) | "Antique Scenery" series (Boyle) |
| Bluebell Border series (Clews) | Briggs Views series |
| "British History" series (Jones) | Cheltenham series (Machin) |
| Cherub Medallion Border series (Herculaneum) | Fruit and Barley Border series |
| "Irish Scenery" series (Elkins) | Large Scroll Border series (Riley) |
| Light Blue Rose Border series (Griffiths, Beardmore & Birks) | Minton Miniature series |
| Morning Glory Border series | Pineapple Border series (Meir) |
| States Border series (Clews) | Tulip Border series |
Some of these are well known, others virtually unrecorded; some made for domestic consumption, others for the American market. Every known view is listed, some titled, many identified, nearly all illustrated in colour. In many cases a source print from which the view was copied is also recorded and illustrated. A comprehensive list of items is provided, along with references to illustrations elsewhere.
For current information about availability, prices and ordering please contact us.
Reynardine Publishing. ISBN 978-0-9926581-0-6. Published October 2013. Sewn paperback 240 x 170mm. 176 pages. 579 illustrations. Full colour.